Destination: Shela  – Manda
Stay:             Msafini Hotel – Diamond Beach Village
Duration:      6 nights, 7 days.
Pax:               6 people minimum
Price:             From KSH 65,000 per person 
                                 USD 655 per person
This trip is perfect for the wanderlust who would like to maximize on resources with a group of friends and/or family of 6. You will explore the archipelago in a week, in the quest for having a good experience 
Msafini Hotel is in the middle of Shela Village and conveniently positioned for access to the different amenities in the village. 
Situated facing the sunsets on the most pristine beach front of Manda island, Diamond Beach Village is a family owned eco lodge that's perfect for total relaxation.
The Properties
Where you will be accommodated
The limestone, five-story Msafini Hotel combines modern architecture and traditional Swahili design for an authentic yet comfortable stay. The beautiful common spaces, including an open-air private pool and the rooftop with stunning views, offer plenty of options for relaxing into your setting. 
Their breezy and serene Mango Rooftop Restaurant boasts views of the entire village, the sand dunes, Manda Island and the sea. The restaurant specializes in Swahili cuisine, which features a variety of seafood, flavorful sauces, exotic spices, fresh vegetables and fruits. Common staples, such as rice and beans, are made with fresh coconut and stewed to perfection.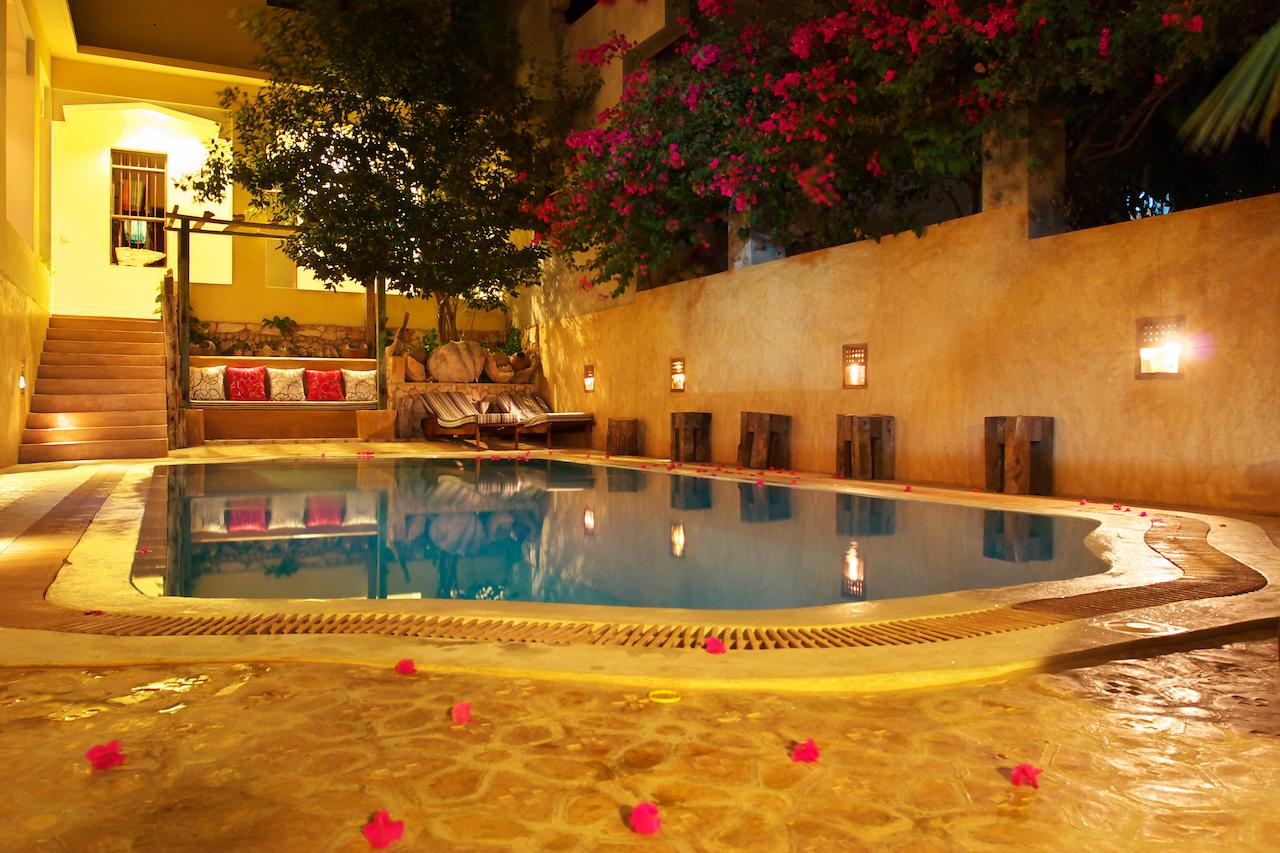 Accommodation 
Msafini Hotel has fourteen spacious and well-ventilated en-suite rooms, each with a private balcony.
Amenities
Activities 
Right at the beach front, Diamond Beach Village offers back to basics barefoot luxury. This eco lodge runs off 100% solar power and depends on its rain water catchment to ensure consistent water supply. 
Their restaurant and beach bar serves exquisite modern food and amazing cocktails.
The library that has a collection of books by authors from all over the world is also stocked with board games you can enjoy as a group. This library also acts and yoga deck twice a week; Friday afternoons and Sunday mornings. 
Accommodation
Diamond has 6 Bandas, all en suite with a shower, toilet and sink. Each banda has a front porch, which is furnished with a tables and chairs so that you can relax in privacy, with the doubles having a swing bed for maximum relaxation. 
Activities
Beach walks

Nature walk at the back of Manda Island to Takwa Ruins or to the open sea
Bird watching
Private Yoga classes 
1st August - 15th December 2020

16th December - 31st December 2020
1st August - 15th December 2020

16th December - 31st December 2020
Contact Us to plan your safari